DESIGN QUESTIONS & ANSWERS
extracts from a web-interview with Nico Smeenk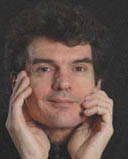 ...the human side of things...
In his projects Nico Smeenk moves with agile professionality from the rational methodology of his (Dutch) origins on one side to a passional Italian creativity on the other.
Building on his collaborative experience with protagonists of italian and international design (
Andries and Hiroko van Onck
,
Design Continuum
,
Luca Meda
), in these last years he has worked with his own studio for numerous clients in distinct sectors, from medical devices to kitchen utensils; from furniture to electrodomestic appliances.
Co-designer (with Andries van Onck) of the folding stepladder '
Tiramisł
' for Kartell (selection Compasso d'Oro 1994). His chair 'Track-One' wins the first prize in the competition 'Design 90'. Two of his electrodomestic appliances are in the permanent collection of the museum '
Forum di Omegna
', whereas two 'manodomestic' utensils and the chair 'OYYO' took part in the exhibition '
Piemonte Torino Design
' of 2006/08.
He has a preference for projects with a certain level of technological complexity, but the design of his products always shows a profound interest in the human side of things.
Design researcher
ante literam
, his aptitude for research and design theory is evident also in his teaching - from 1999 he is lecturer at the '
IED
' in Milan.
(A.B.)





Every designer has a motto - what is yours?

Paraphrasing a statement by a famous architect (Mies van der Rohe), my motto is: "Less slogans, more design".

In other words: there are no stylistic answers 'a priori'. First of all I listen, try to understand all the parties that are interested in the product - the end user before all - and to analyse the context.

The project that follows is the research for a design that responds as well as possible to this analysis. It's the only way for a design to become strategically innovative and not a mere stylistic variation.